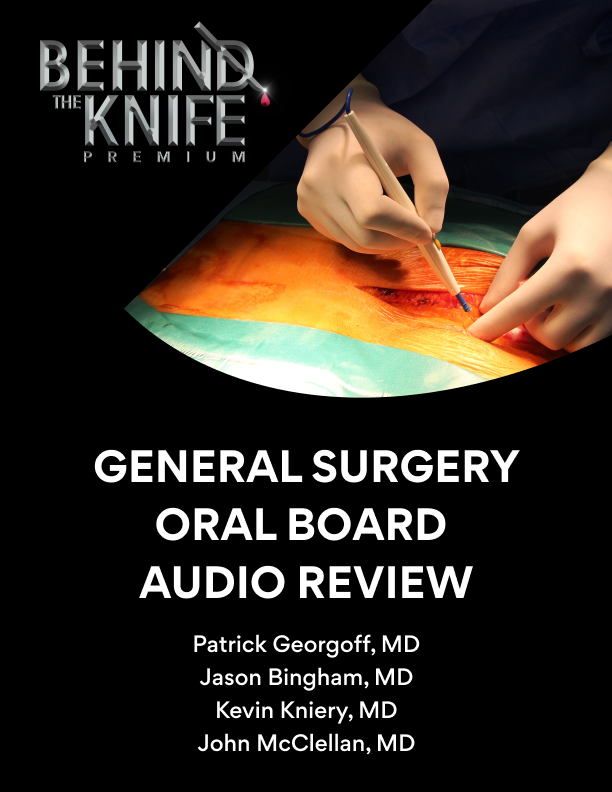 Dominate the Oral Boards with BTK
Our oral board review course includes 96 scenarios that meticulously cover 115 SCORE core topics. Each scenario includes two parts. The first part is a perfectly executed oral board scenario that mimics the real thing. Scenarios are 5 to 7 minutes long and include a variety of tactics and styles. If you are able to achieve this level of performance in your preparation you are sure to pass the oral exam with flying colors. The second part introduces high-yield commentary to each scenario. This commentary includes tips and tricks to help you dominate the most challenging scenarios in addition to practical, easy-to-understand teaching that covers the most confusing topics we face as general surgeons. We are confident you will find this unique, dual format approach a highly effective way to prepare for the test.

User Reviews
"This was great. Having the ability to play in the car and on the go was perfect. I love that the cases were perfectly executed compared to other courses this was much less confusing. I like the real time feedback scenarios and being able to pause and take notes and resume. This was literally phenomenal. The value compared to others was amazing- so inexpensive compared to others yet better!"
"Brilliant format with exceptional commentary. The absolute BEST oral boards review out there!"
"Just felt compelled to message you that my wife and I (also a recent surgery graduate) exclusively used the BTK premium oral board prep for our recent oral boards and both passed easily. It was amazing and no other prep sources needed for us to pass. Thanks so much."
"It is very helpful for my learning to hear oral boards scenarios with perfect answers. Listening to scenarios where the answer may not be correct and the examiner does not intervene makes me worried that I will learn incorrect information. BTKs format and approach is truly welcomed and is the best tool we have available."
"BTK - Just waned to let you guys know that I recently passed my general surgery oral boards! The BTK premium content was worth every penny and contribute greatly to my success."
"Just wanted to say your program was just what I needed to prepare for the oral boards. I felt confident going into the exam and passed my exam. The commentary during the scenarios were excellent! Keep up the excellent work!"
** Teachable offers an iOS app. We are aware of potential issues with the app that prevent a small amount of users from using the app. We are working on developing our own BTK platform that will include both Android and iOS apps. In the meantime, Teachable is our best platform option for our premium content. If you have any issues with the app, please email

[email protected]

and we are happy to help find a solution. **
Institutional and Military Discounts
Institutional Group and Military Discounts.
If inquiring about Military Discounts, please send the email from your .mil email address.